The ASMO gate is ICF (International Canoe Federation) approved and will allow you to use it for training as well as for the highest level of competition.

It is distinguished by its translucent stem which allows us to focus our eyes on what matters.

Made in France, the industrial manufacturing processes of the ASMO door also meet a social and solidarity requirement.
Senior World Championships 2021
Bratislava - Slovakia
September 21st-26th, 2021
World Junior and U23 Championships 2021
Tacen - Slovenia
July 7th - 11th, 2021
Kanu Park Markkleeberg - Germany
World Cup 2021 #2
September 18th-20th, 2021
Sort - Spain
Spanish Championships 2021
Aquasports Park Pau - France
Plugs and brackets undergoing a "crush" test by car on concrete
Our plugs and brackets are made of extruded polycarbonate tube. Being made "in one piece" allows them to benefit fully from the incredible mechanical properties of polycarbonate.

Extreme shock resistance: no more changing your plugs at the first impact. Virtually unbreakable under normal use.


"Emotional" athletes, trainers will finally be able to make tracks worthy of your moods!
Resistance to extreme temperatures :
-20ºC to +120ºC
No more twisting in the sun or cold.
Gates to face all conditions!
Your gates and brackets will keep their original shine.
Plug adjustment ring
An ASMO innovation
ASMO has developed an adjustment ring that makes it easy to adjust the plugs from the water.

No matter how strong your athletes are or how heavy your plugs are, they will always be well adjusted and well hung!
Attachment
The plug is attached with a stainless steel ring that supports up to 140kg.
No more lost gates during rafting sessions!
Ballpoint pen
Instead of a steel bar, the plugs are weighted with balls to prevent damage to the pumps...
Translucent stem
In the 21st century, a slalom gate still requires 5 cables crossing the river... Let's help the spectators to focus on the essential!
Adjustable stem
You can adjust 3 gates widths (120 - 140 -160cm).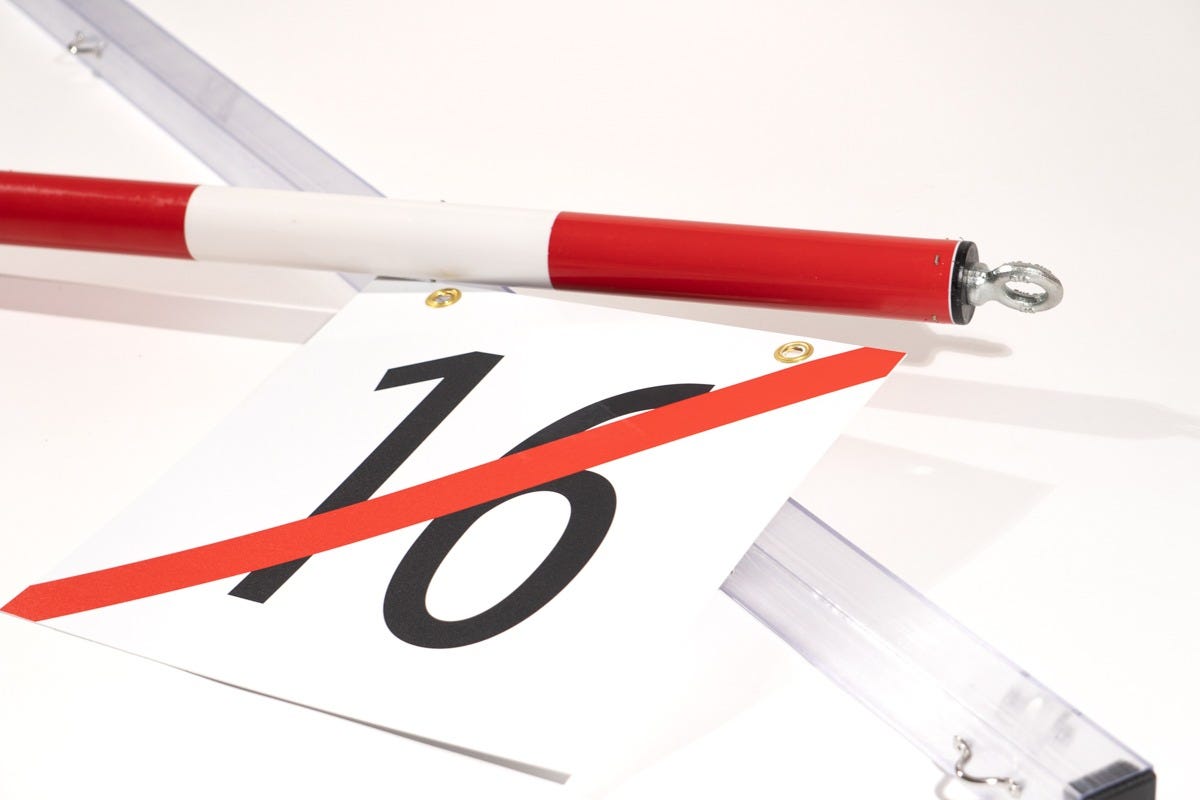 Gate number
2 formats :
- ICF approved format (300 x 300mm)
- Training format (150 x 150mm)
Hands-free kit
ASMO in partnership with Rheologik, provides labor and equipment for the installation of your slalom pool.
30 years of slalom experience at the highest level at your service.
Fittings
No need to run to the stores to buy at exorbitant prices!
A selection of fittings chosen by us to cover all your needs.